A DAFs Beauty is in the Eye of the Donor (Webinar)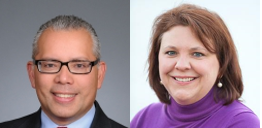 Donor Advised Funds have become one of the most popular vehicles utilized for philanthropic giving. Why is this occurring, and how can charities benefit from this mega-trend? We will explore these questions and more by reviewing current DAF "rules of the road," examining the attraction of DAFs, and discussing creative ways DAFs are being utilized by donors. The focus will then shift to potential strategies for fundraisers and their organizations to leverage DAFs and DAF donors. This portion of the presentation will include a forum where audience members are encouraged to share their experiences, ideas, questions, etc.
Learning Objectives:
* Explain DAF rules and the tax incentives for using them.
* Describe why DAFs are attractive to donors, as well as recognizing some of the creative ways that DAFs are being utilized.
* Develop and share strategies around using DAFs in support of fundraising efforts.
Presenters:
Carlos Byrne, BNY Mellon
Sindy Craig, The San Francisco Foundation
Program Sponsor: Fox Run Retirement Community
Location Sponsor: University of Michigan-Dearborn