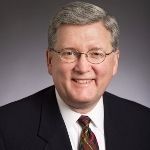 Presenter: Joe Bull, JD, Vice President & Chief Advancement & Alumni Officer, Wilmington College,
Have you ever wondered what the difference is between a good gift planning program and a great one? Have you ever been asked by your board or boss 'why' they should be investing in your planned giving program? Perhaps you've inherited a fledgling program and want to jumpstart it? You're in the right place! In the fall of 2020, the National Association of Charitable Gift Planners (CGP) released the first ever National Standards for Gift Planning Success (GPS Standards). The GPS Standards are a living, breathing resource created from years of experience, proven best practices, and current research that is focused on providing any and all fundraising shops with tools to ensure gift planning success.
In this presentation, the Chair of CGP's Metrics and Standards Task Force brings an overview of the GPS Standards. You will learn:
• How the GPS Standards will provide large and small organizations a road map for program success and a realistic way to generate information that helps managers understand the importance of gift planners' work.
• How the GPS Standards incorporate the challenging process of measuring the performance of gift planners and planned giving programs.
• How to navigate the GPS Standards website and utilize the tools and resources provided.
Approved for 1.0 CFRE CE Credits
Sponsor: Community Foundation for Southeast Michigan