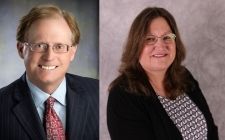 Moderators:
Kathleen Wentzel, Gift Planning Specialist, The Salvation Army
Terry Lang, Vice President, Planned Giving, Beaumont Health Foundation
Kathleen and Terry will present several donor situations, setting forth an overview of a typical donor's assets and charitable goals, and will lead an open roundtable discussion as to possible charitable giving ideas and opportunities that could be of interest to the donor. Potential charitable approaches will include both lifetime giving opportunities as well as charitable plans taking effect at death. This program is very valuable for all fundraisers and advisors and is especially helpful to newer advisors and gift officers to assist them in reviewing and analyzing gift opportunities in several different situations.
Plus: A Tax & Legislative Update by Laura Brownfield, General Counsel
Community Foundation for Southeast Michigan.
Sponsor: Beaumont Health Foundation