Gifts From Your Donor's Other Wallet - A Primer on Gifts of Non-Cash Assets (Seminar)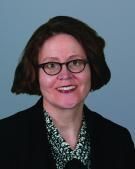 Presenters:
Karen Johnson, Sr. Director of Complex Asset Gifts, Harvard University
Kara Morin, Director of Client Services, PG Calc
Your donors keep the majority of their wealth in illiquid assets, not in cash, so fundraisers should be ready to discuss these asset types with their prospects. Please join Karen Johnson, Senior Director of Complex Asset Gifts for Harvard University, and Kara Morin, Director of Client Services for PG Calc, for an overview of several non-cash assets, including: private equity interests, real estate, and cryptocurrency. Participants will leave with a greater understanding of how to help your donors unlock the philanthropic power of these assets, the importance of a robust diligence process and comprehensive gift policy in accepting non-cash assets, and how soliciting donors for non-cash assets can increase your charity's revenue.
Fee Sponsor: Bank of America
Location Sponsor: Jewish Federation of Metropolitan Detroit
Approved for 1.0 CFRE CE credits in Category 1.B -Education of the CFRE International application for initial certification and/or recertification.